Welcome to the 2nd Album in the series. After the Vaudvillian Stylings of "Gorilla", one can only guess what fans must have thought of this album. My guess is after hearing "We Are Normal", two thoughts would come to mind: firstly, "Oops, I've accidentally purchased a Frank Zappa record" or secondly, "Hello, where did all these electric instruments come from?".(And the sleeve and enclosed booklet, were guaranteed to amuse and puzzle even further!).

In keeping with their excursions into surrealism, dada, humanity, and now psychedelia, The Bonzos were off and flying in fine form! Where as some of the heavier rock sounds might have stunned the casual listener, those watching their progressively loonier antics on "Do Not Adjust Your Set" were probably more than prepared for it. This album, and "Keynsham", both seem to set a sort of format for The Bonzos: numerous musical styles, musical experimentation, and various pieces of tomfoolery to stitch it all together. Not so much a straight forward "concept" or "story", but rather a surreal tale in which the band isn't always the narrator.

Starting out the festivities, is the afore mentioned, "We Are Normal", the song that asks the simple question: Who is normal? And what if in fact the listener isn't normal, but the man with a rabbit head IS? This song launches into an incredible instrumental jam, which largely announces, "We have plugged in our instruments!".(It may also have inspired Emerson, Lake and Palmer's "Great & Secret Show"). "Postcards" is a lovely pastiche on, whatelse: holidays! Featuring a nice trade off on vocals between Neil & Vivian. (With yet another rambling narrative by Viv.). "Beautiful Zelda" is Neil's salute to science fiction and alien invaders, and the alienness of love. "Can Blue Men Sing The Whites", is a brilliant rant about the horrors of rich white singers, having to dress down to sing the blues. A wonderfully comic poke in the eye, to a well deserving bunch of fellows! "Hello Mabel" is a nice faux-retro piece, written by Neil, to satisfy all the fans of the "old" Bonzo sound. Sung by Vivian here, but occasionally sung by Neil at live performances. "Humanoid Boogie" is The Bonzos as Heavy Metal act! Part flower power, and part really loud! A favourite of Neil's, he has recorded no less than three alternate versions of this song as a solo act! "Kama Sutra"....<gulp>....well, what does one say about this? Its a silly little ditty celebrating both The Kama Sutra & 60's Girl Groups. (Let's just leave it at that.).

Side Two starts off with "Trouser Press", wherein, finally, someone other than Vivian and Neil gets to make a song! This one is written and largely sung by Roger Ruskin-Spear. A throbbing ode to the dry cleaning trade. (With a back handed slap at soul music.). That's Joel Druckman enticing us to "clap your hands". Next up, is a personal favourite of mine, "My Pink Half Of The Drainpipe", an absurd comic operetta about annoying neighbours! (I wonder if "Bohemian Rhapsody" started out like this?). A wonderfully bizarre collection of instruments and voices, featuring Vivian and Rodney Slater on vocals! "Rockaliser Baby", next on your programs, is a rock song about, more holidays and motorcycle gangs, and teddy boys, and police raids. A typical trip to Bournemouth. (Did I mention the lovely accordion solo?). "Rhinocratic Oaths" is a twisted narrative as only Vivian Stanshall can spin one. (Note the mention of one "Percy Rawlinson"....you may also recall "The Rawlinsons on Trombone" from "Gorilla"...a theme? A running thread? An obsession?). This song becomes funnier with each listening, as the listener picks up more of the story's idiosyncrasies. Rounding out the album, the perfect bookend piece, and equally bizarre,"11 Mustachioed Daughters". Is it a Voodoo ritual? Is it an advert for some sort of depilatory device? Is it an attempt to fill space? We may never know....its definitely one of the longest Bonzo pieces. (Vivian later resurrected this song, with his band "biGGrunt", performing it on television with appropriate costuming and such, abetted by Roger Ruskin-Spear and Dennis Cowan.).

As if releasing this album were not enough....our boys also released there biggest hit at this time! The single, "I'm The Urban Spaceman" finally brought the Bonzos to the attention of those who were sleeping! (With a little help from Paul McCartney) Coupled with the equally lovable "Canyons Of Your Mind"! (Vivian's other salute to Elvis!).

The score so far: weekly appearances on a popular television show, support act for bands such as The Who and Cream, and now a hit single!
Our frogs had now become Princes....but soon....they would revert backward to "Tadpoles"! Now read on...


TRIVIAL BITS: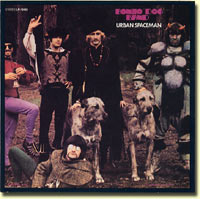 RELEASED:
November 1968 as "The Doughnut In Granny's Greenhouse"
by The Bonzo Dog Band. (Included Booklet & Gatefold Sleeve with Lyrics)

Liberty Records (UK) - LBL-83158(mono)/LBS-83158(stereo)

November 1968 as "Urban Spaceman" by The Bonzo Dog Band.
(Included Booklet & Gatefold sleeve with Lyrics)

Imperial Records (U.S.) LP-12432

RE-ISSUED:
1975 as "Doughnut In Granny's Greenhouse"
by The Bonzo Dog Band.(no extras).

Sunset Records (UK) - SLS50210 (Mint Green sleeve)

1987 as "The Doughnut In Granny's Greenhouse" by The Bonzo Dog Band.
(Redesigned gatefold sleeve, which includes most of the booklet pictures, words, and lyrics.)

Edsel Records (U.K.) - XED 209

1993 as "The Doughnut In Granny's Greenhouse" by The Bonzo Dog Band.
(no extras)

One Way Records (U.S.) S21-17430

THE HIT SINGLE: released November 1968 - "I'm The Urban Spaceman"/"Canyons Of Your Mind"
Liberty Records/LBF-15144 (U.K.) - with Picture Sleeve. (This was the Bonzos biggest hit!)

CREDITED BAND MEMBERS: Rodney Slater, Neil Innes, Roger Ruskin-Spear, Vivian Stanshall, and"Leg" Larry Smith.

UNCREDITED MUSICIANS:Dave Clague (Bass, Coronet, and "Fuzz Guitar" on "Humanoid Boogie"): contributed to the following songs, recorded at this time: "I'm The Urban Spaceman", "Beautiful Zelda", "Hello Mabel", "Humanoid Boogie", "Trouser Press", "Rockaliser Baby", "Shirt", "Monster Mash", "Little Sir Echo" and "Canyons of Your Mind". Dave was still considered a "sessions" musician, even though by now he had replaced Vernon Dudley Bohay-Nowell full-time. Dave's picture appears on the sheet music for "The Equestrian Statue", the "I'm The Urban Spaceman" Single sleeve, the "Television Times" advertising "Do Not Adjust Your Set", and on the sleeve for the "Beastiality Of The Bonzos" LP. (He's the one in the newspaper suit!). Dave was, for reasons unspecified, dropped from the band without warning, and was replaced with Joel Druckman. Dave lives in the U.K., and was responsible for the release of the brilliant Bonzo C.D. "Anthropology" on his own label: DJC Records. (He also reissued Roger Ruskin-Spear's first two albums on C.D.)

Joel Druckman (Bass & Voices): contributed to the following songs, recorded at this time: "We Are Normal", "11 Mustachioed Daughters", "Trouser Press", "My Pink Half Of The Drainpipe", "Rockaliser Baby", "I'm The Urban Spaceman", and "Canyons Of Your Mind". Joel is most notably heard as The Interviewer on "We Are Normal", as the Introductory voice to "Trouser Press", saying "Raw Meat!" before "My Pink Half of The Drainpipe", and saying "I don't remember too well, but I think John Wayne was in it.", on "11 Mustachioed Daughters". Joel is pictured on the album sleeve, left hand corner, holding a bell and wearing highly attractive purple stockings! Joel eventually left the band after a falling out over
"Little Lord Echo". (see more below). He was eventually replaced by Dennis Cowan. Joel currently lives in Sunny Southern California.

CAN WE HAVE SOME CREDIT PLEASE?: Joel Druckman has been called the "missing U.S. Bonzo", when in truth, Joel and Dave should be called, "The Uncredited Bonzos" (you will note, nowhere on this album are there credits for a Bass Guitar)......and at this moment in time, we shall all wag our finger at the other Bonzo-Boys and say "Bad Bonzo! Bad Bad Bad!", for not giving these lads, credit where it was due!

DIS-CREDITED & DIS-AVOWED MUSICIANS: Vernon Dudley-Bohay Nowell, was dropped from the band shortly after "Gorilla" was released. Sam Spoons was also dropped from the band with Vernon, leaving all percussion now in the hands of "Legs".

SONGS THAT DIDN'T MAKE IT ON THE ALBUM: Among the Bonzo's repertoire at this point were: "Little Sir Echo", "Mr.Hyde In Me", "Monster Mash", "Shirt", "I Want To Be With You", "Give Booze A Chance", "We Were Wrong", and "Tragic Magic"
(the working title for the song later named, "Keynsham").

A SHOT OF VERMOUTH: Once again The Beatles give the Bonzos a hand. The single "I'm The Urban Spaceman" was produced by Sir Paul McCartney under the pseudonym "Apollo C.Vermouth". Paul, a keen follower of the Bonzos, wanted to give producing a try, and this was the opportunity. It is said Paul was the one whom figured out how to record the unique sound at the end of the album.
(Its a garden hose, with a funnel in one end, being swung around over Vivian's head.) Paul figured if they placed a circle of microphones around the studio, they'd capture this eerie sound...and it worked!

MORE OF THE BEATLES: Funnily enough while accepting the help of Paul, the band were taking a poke at John Lennon & Yoko Ono with a song called, "Give Booze A Chance", which they performed on the John Peel radio program. Also at this time, Rodney Slater was seen in many pictures wearing a shirt reading "Lump It John", a reaction to John Lennon's constant "whining" in the press.

THE AMERICAN VERSION OF THINGS: Yes....once again the U.S. release had to be different from the U.K. release. The U.S. market has to be sold by a "Hit" single, so at the last minute "I'm The Urban Spaceman" was added as the first track of Side 1.(followed by "We Are Normal" and the rest of the LP). It really throws the concept of the album askew. (The album was originally released as "Urban Spaceman" in the U.S.)

SPEAKING OF SINGLES: You may well wonder why "I'm The Urban Spaceman" wasn't on the U.K. album. At this point in time many artists released singles, that never appeared on albums, except in "collections" or "best of" albums. (The Beatles did this quite a lot.)

THE HORROR OF LITTLE SIR ECHO!!: "Little Sir Echo" was a silly song that Vivian & "Legs" both enjoyed. On stage it was performed as a ventriloquist act, with Vivian as the ventriloquist and Roger, dressed as a schoolboy, sitting on Vivian's knee, as the dummy. Eventually it was decided that Joel Druckman was to be the new Little Sir Echo, which didn't suit him at all. Joel described it as "humiliating", and after arguing his point, found himself dropped from the band. Oddly enough...."Little Sir Echo" was also dropped from the act.

WHO ARE YOU CALLING "NORMAL"?? : Many people have wondered how the "We Are Normal" interview segment got so many weird responses from passerbys.....well here's how and why: Joel Druckman was standing on a busy street corner, with his microphone, dressed in a letterman sweater, while across the street was Vivian.....wearing only his underpants and a hat with rabbit ears! He was also, I might add, hopping! Just another typical day in Swinging London.

TWO CANYONS! : There exists two versions of "Canyons Of Your Mind"....one with Vivian's intro: "Tis the B-Side of our platter sports fans...",and an alternate mix without the intro. (The "Cornology" Set contains the latter of the two.)

WHAT'S IN A NAME?: The title of this album is often credited to Michael Palin! While working on "Do Not Adjust Your Set" with the Bonzos, Michael had made up the jokey term, "The Doughnut In Granny's Greenhouse"....it was supposed to be a euphemism for an outdoor toilet. This so delighted Vivian, he borrowed it for the album title.

BOYS ON FILM, PART 2: Filmed around this time, and occasionally shown on British College campuses today, was the little seen film "The Adventures of the Son of Exploding Sausage". This film was basically the Bonzo's and all their gear, set up at a farm yard, and filmed ad-lib. It is mostly instrumental versions of a handful of their songs. Neil Innes said he specifically remembered a pony that would nod its head along to "Rockaliser Baby". There is also a sequence about the Ruskin Spear family all sitting down to dinner, and eating nuts and bolts and things, since they all turn out to be robots!