WELCOME TO KEYNSHAM!

Population: 6 Bonzo's, their instruments, their songs, and YOU.

[ Whereas most people are NOT aloud to talk about "Keynsham"....I knew the right palms to cross with silver....and can henceforth reveal as much as I was aloud to be told by the locals.....at least until the full moon comes out. ]

Now read on....

SIDE ONE: Our journey begins with the cryptical warning, "I have personally won over....". This personal overthrow seems to have been achieved with the help of heavy machinery! Have androids taken over Keynsham? The first song, "You Done my Brain In", is all Neil, and a rocking good song about the alienation of relationships. Our singer loves the object of his affections so much, he can't even bare to be near her! We are then given our first warning about NOT mentioning the secrets of "Keynsham". And then we are given the very psychedelic song of "Keynsham" which weaves intricate word plays into lyrics, not unlike John Lennon's works, but tells us precious little about "Keynsham". This is followed by the very gentle, "Quiet Talks & Summer Walks", a song about the world seen through the eyes of a flower...yes, in "Keynsham" even the flowers are watching! Next the local dentists seems to be extracting not only teeth, but information as well! We are then treated to the wonderfully looney and loud, "Tent"! "Tent", I believe has always been a fan favourite just because it is so obnoxious in it's intentions and lyrics, and Vivian's vocals! ( He is very much loving singing this song! ).Next is, "We Were Wrong", a hilarious duet, with a lyric exchange between a couple....the twist here is, the couple is "Legs" Larry Smith & Vivian Stanshall. This song has a sort of 50's sound to it, and a great Neil duet on piano & organ. We then run into, "Joke Shop Man", a bit of a creepy song. It sings the virtues of the items a novelty shop sells, and then ends with a sort of haunting mantra of sound, that seems to indicate all of the Joke Shop's wares are suddenly marching on the city! "Bride Stripped Bare By "Bachelors", the next track in your song book, is a look at The Bonzo's themselves, as they arrive in "Keynsham" and receive a less than warm welcome. This may be the only song in which all the Bonzo's sing a solo line. We round out this side with, Look At Me I'm Wonderful", another coupling of "Legs" Larry Smith and Vivian Stanshall. This time it's a delightful poke at smarmy showbiz singers. ( And we fade out to the sounds of more machinery.....was the singer a machine trying to be a human? )

SIDE TWO: Our flip side starts off with the gently inquisitive, "What Do You Do?", Neil's look on the drudgeries of daily life. We are then treated to a really bad pun, followed by: "Mr. Slater's Parrot". This song is a delightful throwback to the early Bonzo sound, you can almost picture them all running about the stage squawking like parrots. Next, with the help of some simple hypnosis, we are reminded of our youth via, "Sport ( The Odd Boy )". This song is unique in it's change in styles,it starts off as baroque with the harpsichord, then becomes medieval with the recorder and drum, and then progresses into a rocking jam for bass and bells! Also amusing is the lyrical commentary that boys whom do not indulge in sport, are basically useless to society. Neil then indulges us in a rock ballad, "I Want To Be With You". ( You might almost think of this as his first song for Yvonne, his wife.). But all is not hearts and flowers, we soon learn that the local military have become werewolves! And to accompany this revelation, we are given "Noises For The Leg", an eerie horror film instrumental, featuring Roger Ruskin Spear on the theremin. Closing out our trip to "Keynsham", is the show stopping, "Busted", a commentary on Youth, Alienation, and The Police....it's actually more comical than it sounds. And as the song fades out, we hear our train taking us out of "Keynsham", and on to pastures new.

Afterward: It's hard to say if this album was ever meant to be a fully realized "concept" album or if it was altered in the final stages and quickly cobbled together. The complete "story", as read in the gatefold sleeve of the album seems to suggest this album was originally going to be both songs and words, rather than songs and bits of chat. The album works in it's final form, the spoken bits seem to add more mystique to it all, but one wonders how the fully completed narration would've sounded? ( Of course, if you are sitting around with friends, you could all get together and act it out for yourself! )

The score so far: At this point "Do Not Adjust Your Set" was over. The Bonzo's had done extensive touring, with bands like "Cream", "The Who", and the up and coming "Led Zepplin". The toils of touring were beginning to take their toll, and the differences in music styles between band members was also becoming a strain. ( How does one hold together a band who's members want to play "Trad. Jazz", "Rock" and "Avant Garde" ? ) This album was a good mix of styles, but it was becoming harder to accommodate all in the band. Not to mention the comings and goings of some band members, making it difficult to keep track of who wanted to still be a Bonzo!

EPILOGUE: As the lads exited the serene, yet slightly terrifying confines of this land known as "Keynsham", they found themselves at a true fork in the road. Three roads to take, three choices to make. The signs up ahead read thusly: "The Brain Opera", "The Break Up", and "The Contractual Obligation". Which would they choose? In true Bonzo form, it would be ALL three! ( More on that below and in our next episode, titled: "Let's Make Up And Be Friendly" )

TRIVIAL BITS: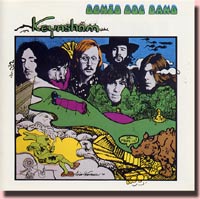 RELEASED:

November 1969 as "Keynsham" by The Bonzo Dog Band.
( with gatefold sleeve/colours primarily Silver and Blue )

Liberty Records (UK) - LBS-83290

November 1969 as "Keynsham" by The Bonzo Dog Band.
( with gatefold sleeve/colours primarily White & Green/ cover artwork is slightly different, does not include "The Bonzo Dog Band" scratched out several times in upper right corner. )

Imperial Records (U.S.) LP-12457

RE-ISSUED:

"Keynsham" by The Bonzo Dog Band. (no extras).

1975- Sunset Records (UK) - SLS50375

1980 - United Artists (UK) - LBR-1041

1987 - Edsel Records (UK) - XED-235 - With New Artwork Sleeve by Vivian Stanshall

1993 - One Way Records (US) - S21-17432
THE SINGLE:

All singles listed, are the same material as heard on the album(*), I cannot say if any of these singles were released with picture sleeves, as I have never seen one.
"I Want To Be With You" / "We Were Wrong" -1969 Liberty Records (UK) LBF-15273

"You Done My Brain In"/ "Mr. Slater's Parrot" -1970 Liberty Records (UK) LBF-15314
(* Side A is "Extended version", 1st verse is added on album take by cross fade)

"Mr.Slater's Parrot" / "Noises For The Leg" - 1974 United Artists (UK) UP-35662

CREDITED BAND MEMBERS: Vivian Stanshall ( Narration, Cover Design, Story, and This ), Dennis Cowan ( Narration ), Roger Ruskin-Spear ( Theremin Leg ), "Legs" Larry Smith ( Perfumed Parlour Snake ), R. Slater ( Bodily Functions Arranger ), with Mrs.Slater ( Hysterics ) and Gerry Salisbury ( Jazz Coronet & Fish-n-chips on "Busted" )

UNCREDITED BAND MEMBER: Neil Innes ( aside from his credits for song writing & producer, Neil's name is left out of the comical credits. )

HAVEN'T I HEARD THIS BEFORE?: Although this was indeed a new album, most of the material had been heard in live performances and radio appearances, the year before. The "old" new songs are: "Tent", "Busted", "Joke Shop Man", "What Do You Do?"," Quiet Talks and Summer Walks", "Look At Me I'm Wonderful" ,"Keynsham" ,"Mr. Slater's Parrot" and "We Were Wrong". ( Leaving only "You Done My Brain In", "The Bride Stripped Bare by "Bachelors", "Sport ( The Odd Boy )","I Want To Be With You" and "Noises For The Leg" as the "new" new songs.)

SONGS THAT WERE ALTERED: One song that was re-tooled for this album, was the title track itself! "Keynsham" began it's life, and early stage performances as "Tragic Magic".

The song "Busted" was also altered. Originally it had a different sound, feel, and lyrics. The "Keynsham" version is more of an allegory between Teenagers and Policemen, whereas the original version was more mythical and about giants and minotaurs tearing apart the forest.( Quite a difference ).

"Joke Shop Man" was originally a more straight forward song, without the sound effects and toy instruments at the end. ( It almost sounded a bit like "Strawberry Fields Forever" )

"Mr.Slater's Parrot" had a few minor lyrical changes as well.

( The original versions of these songs can be heard on the c.d. "Anthropology" )

I'LL REPEAT THAT: Neil Innes would later re-record "Quiet Talks And Summer Walks" for his television series "The Innes Book of Records". The new version replaced the recorders, flutes, oboes and organs with a string quartet. ( And Neil sang the song dressed as a flower! )

A WORD ABOUT BRIDES: Among the song titles on this album, one in particular, is perhaps the strangest titled Bonzo song ever! I refer to "Bride Stripped Bare By "Bachelors". There are two rumours as to how this song got it's title.( Neither confirmed ). One version is that it was a headline in a tabloid newspaper, and thus became a song title. The other version is that it is a reference to the works of Dada artist Marcel Duchamps, whom popularized the art form known as "Ready-mades" ( yet another Bonzo song title ). One of Marcel Duchamps pieces, translates roughly as: "The Bride Stripped Bare By Her Bachelors". Perhaps, it's both? A witty tabloid reporter, does a play on words of Marcel Duchamps art, and it inspires Vivian Stanshall whilst reading said newspaper! ( We may never truly know.)

NOISES FOR THE......WHAT?? : Another confusing song title, for those who never saw the Bonzo's perform live, is the song "Noises For The Leg". The Leg in question is a device played by Roger Ruskin-Spear, and it produces the strange sounds on the song. It is a Theremin, which basically is a device that produces electrical current over a surface, and when an object, such as one's hand, is glided over it, it produces sounds, almost like a musical scale.
Roger's Theremin, is made from a mannequins leg, which he carries in a case, in the shape of a leg. I can happily tell you, he still possess the leg, and I actually saw him play it live in 1991!

WHEREFORE ART? : The cover artwork for this album, is by Vivian Stanshall, and if you examine it closely it contains many things! There are two references to previous Bonzo albums, some "tadpoles", and a "gorilla". There is a human leg, which probably represents "Noises For The Leg". Directly below Dennis Cowan, and later pointed out by Vivian in interviews, is a drawing of "Bonzo" becoming the mythical creature called a "Chimera"....although he appears to be more of a pig with wings.

THOSE AMERICANS! : Once again....those easily confused, but lovable American chappies, had to have a different version! Maybe the shiny foil cover hurt their eyes? Or perhaps the Bonzo's name crossed out several times was confusing? ( "Hey! Is this them, or isn't it? " ). Either way....it makes collecting the original albums more fun!

THOSE BEATLES! : There is absolutely NO mention of The Beatles on this album.

THE END?? : In a way. In January of 1970,it was decided by the band, The Bonzos were over. They would play their final gig at Loughborough University, U.K. ( Rodney Slater later declared March 14,1970,as the official burial date.)

LET'S BREAK UP & GO SOLO! : Yes, for a brief period of time, The Bonzo's got it in there heads, that breaking up would be a good idea.( Well, for two years or so, anyway.). During the time between "Keynsham" and their next album "Let's Make Up & Be Friendly", they did the following:

VIVIAN STANSHALL: Vivian always thought the break up was a temporary thing, at least that's how he planned it, a sort of holiday away from themselves, and then re-group later.

Vivian set about busying himself with various projects.( Among them, the above eluded to "Brain Opera" with Arthur Brown. ).

First was the "Sean Head Show Band", with Dennis Cowan (Bass), Rema Kabaka (percussion) and on guitar: Eric Clapton. ( Yes, THAT Eric Clapton.). They released one single in 1970: "Labio-Dental Fricative"/"Paper Round" ( Liberty/LBF15309 ).

Second was "biGGrunt" a band composed of Viv, Roger, Dennis,and Bonzo roadie Fred Munt. ( seen in the booklet for "Donut in Granny's Greenhouse"). This configuration would also be called "Viv Stanshall & His Gargantuan Chums", and include Rema Kabaka in the line-up. They released a single in 1970: "Suspicion"/"Blind Date" ( Fly Records/Bug 4 ).Fly Records co-incidentally was owned by Viv's chum Keith Moon. biGGrunt did some live television performances, before splitting up, which included several Bonzo-esque moments, including giant head masks and robots. They also did a cover version of "11 Mustachioed Daughters".

Thirdly, Viv had a nervous breakdown. ( Which is around the time he shaved all his hair off. )

NEIL INNES: Neil, did not shave all his hair off.....instead he too formed a band. His band was called "The World". They released a single "Angelina"/"Come Out Into The Open" ( 1970 - Liberty Records ),and an album "Lucky Planet" ( 1970 - Liberty Records/LBG 83419 ). The band was composed of Neil, Dennis, Roger McKew ( guitar ), and Ian Wallace ( drums ).....< see separate entry for more details >. The band split up shortly after the album was released and in 1971 Neil sat in with "McGuiness Flint".

ROGER RUSKIN SPEAR: after appearing in, "Topo D.Bill", "biGGrunt" and "Viv Stanshall and his Gargantuan Chums", formed his own band "Roger Ruskin Spear & His Giant Orchestral Wardrobe" in 1971. Incorporating former Bonzo's Dave Clague & Lenny Williams, and Tat Meager ( drums ),they would release an e.p. titled "Trouser Freak" ( United Artists/UP35221 ), which included the songs "Trouser Freak" and a live version of "Release Me".

LEGS LARRY SMITH: "Legs" actually released a single, before the official announcement of the break-up, "Witch Tai To"/"Jam" ( Charisma Records,1969-CB116 ),under the pseudonym "Topo D.Bill". Among the musicians on this single were Roger Ruskin Spear and the members of YES.

DENNIS COWAN: Dennis Cowan would form NO bands. Never a former, he was a joiner! And join he did! He lent his bass playing skills, rugged boyish looks, and occasional vocals and song writing to "biGGrunt", "The Sean Head Show Band", "Viv Stanshall & His Gargantuan Chums", and "The World".( co-writing "Not The First Time" with Neil Innes on the "Lucky Planet" album )

RODNEY DESBOROUGH SLATER: Rodney was apparently the only one who knew the meaning of the words "break up", as this was his last Bonzo album. He would later return for the Bonzo reunion single, with Neil, Viv, Roger & Legs: "No Matter Who You Vote For The Government Always Gets In ( Heigh Ho! )", in 1987.

Rodney went on to be a psychiatric social worker and a systemic therapist.( Now retired ). Musically he has played in several bands, "The Infamous New Titanic Band", "Whites Scandals" and most recently "Bill Posters Will Be Band". He would also later appear in Vivian's 1991 live show "Dog Ends".( with Roger Ruskin Spear,and Ollie Halsall & John Halsey ( of The Rutles ).

WHAT'S IN A NAME?: "Keynsham"....just another city name? Or mystical land of wonderment to a young man listening to a radio somewhere in the Shillingford, U.K. ? Actually a little bit of both. Keynsham is a city near Bristol, and as a lad Viv Stanshall would hear radio adverts for betting pools, which ended with " That's Keynsham, spelt K-E-Y-N-S-H-A-M, Keynsham ".
Apparently this stuck in Viv's head for quite some time,thus inspiring the title of this album. ( The person/announcer of said adverts, was one "Horace Bachelor", a name which cropped up several times in Viv's works, most notably on "The Intro. & The Outro." from "Gorilla" )

TELL ME EVEN MORE ABOUT KEYNSHAM! : Learn more about this mystical place by going here: http://www.keynsham.co.uk/ And all will be revealed!