Q: When is a Bonzo Dog album, not a Bonzo Dog album?
A: When it's "Tadpoles" !

Well....that's a little cryptic, is it not? Here's the explanation....

The folks behind "Do Not Adjust Your Set", suddenly took bigger notice of The Bonzos when "I'm The Urban Spaceman" became a "hit" song. So enthused were they, it was decided a soundtrack album for the show should be released!
They wanted the Bonzos, of course, to record more "hits" for their little soundtrack. The problem was, the Bonzos were touring extensively, and not quite ready with the new material they were working on for their own next album.
( Besides which, they had quickly released "Mr. Apollo"/"Ready Mades" as a single in hopes of following up "I'm The Urban Spaceman". )

The solution? Re-master the material used on the show, specifically songs that were not previously released. The Bonzos recorded many songs, usually covers, so they could lip-sync to them on the live show. ( Quite common for the time ). So, this collection of tunes is items from "Do Not Adjust Your Set" + the "I'm The Urban Spaceman" single + the most recent Bonzo single "Mr. Apollo" and one old Bonzo song found hiding in a box of tapes somewhere.

The form of the album itself, is Bonzo-like, but it is missing the usually thread, which may be why the Bonzos themselves never considered this
album an actual Bonzo album.

Now read on....

SIDE ONE:We start our journey with "Hunting Tigers Out In INDIAH"....a rippingly silly salute to England and the days of the Raj....with a slight bit of psychedelia. ( Featuring silly hunters Roger Ruskin Spear and Vivian Stanshall ). Next up....Vivian interviews people about shirts, and Roger let's loose with his own composition ,coincidentally titled: "Shirt" ! ( featuring a solo by Roger on the electric shirt collar ! ). "Tubas In The Moonlight" is another piece penned by Roger....which sounds very reminiscent of the original tunes that inspired the Bonzos. With a really good Tuba solo! How many songs can claim that? "Dr.Jazz"- follows, an instrumental, very much in the vein of the early Bonzo recordings. An amazing array of instruments are used throughout this piece! Next, rising from the shadows is the "Monster Mash". This cover version may be the closest the Bonzo's got to covering a "recent" song! ( The original was recorded in the 1950's by Bobby "Boris" Pickett ). Vivian Stanshall cannot help but alter the lyrics a little, and the original television version featured Sam Spoons as "The Creature", playing the electric spoons! This side closes out with "I'm The Urban Spaceman"....The Bonzo's big hit....blab blab blab.... ( Alright, it IS a good song, but I believe I've discussed it into the ground by this point. )

SIDE TWO: Meanwhile, back at the desert....we venture off with "Ali Baba's Camel", another foul creature indeed! But a wonderfully silly and comical song....you can almost see the Bonzo's visual performance.( And you can almost hear Vivian as Sir Henry Rawlinson! ). The next piece.... "Laughing Blues", is indeed a Bonzo "oldie", originally recorded during their 1966 Parlophone sessions, and obviously not very well preserved, it does offer insight into the original Bonzo sound. "By A Waterfall", a hit for Jeannette MacDonald and Nelson Eddy, is hereforth lampooned by Vivian. ( Not dressed in a Canadian Mountie costume.). This song was a favourite on "Do Not Adjust Your Set", and the audience did all the response lyrics, much to the band's amusement! At this point, the Bonzo's plug in, and locate their heavy metal songbooks, to bring forth "Mr. Apollo"! An absolutely hilarious salute to body building! It should've been as big as "I'm The Urban Spaceman"...but alas, it wasn't! An amazing Glam-Rock sound! Closing out our festivities, is perennial B-side favourite "Canyons Of Your Mind"....Vivian gives us another salute to Elvis! A very popular piece, that the Bonzo's performed on several shows. The extremely painful guitar solo is all Neil...and his screaming fan is Roger!

FOOTNOTE: Although this album was never seriously considered a Bonzo album, by the band, it is a well gathered overall look at the band. It features their earliest work, their hit song, their jazz sound, their rock sound, and their silly use of sketches. Not too bad for a mish-mash of tunes just lying about!

The score so far: Riding high on a hit single, the Bonzo's continue touring with 2 visits to the USA ( unfortunately not very prosperous, due to poor marketing - their albums were not yet available in most cities they toured! ), various television and radio appearances, and finished their tenure with "Do Not Adjust Your Set", while also having time to write their next album.

>From here, the journey took a strange turn, down a narrow road.....at the sign
post ahead, only one word could be seen as the lightning flashed: "KEYNSHAM"!

TRIVIAL BITS: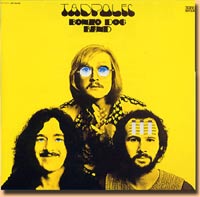 RELEASED:

August 1969 as "Tadpoles" by The Bonzo Dog Band.
(Included Die-cut outer sleeve & one sided inner sleeve.)

Liberty Records (UK) - LBS-83257

August 1969 as "Tadpoles" by The Bonzo Dog Band.
(Included Die-cut outer sleeve & one sided inner sleeve. Cover does not include reference to "Do Not Adjust Your Set")

Imperial Records (U.S.) LP-12445

RE-ISSUED:

1975 as "I'm The Urban Spaceman" by The Bonzo Dog Band. (no extras).

Sunset Records (UK) - SLS50350
(With Alternate cover: photo of the Bonzo's sitting in a crosswalk....somewhere in Outer Space! )

1986 as "Tadpoles" by The Bonzo Dog Band.
( Original sleeve photo, not die-cut, and no inner sleeve )

Edsel Records (U.K.) - XED186

1993 as "Tadpoles" by The Bonzo Dog Band. (no extras)

One Way Records (U.S.) S21-17431
THE SINGLE: "Mr. Apollo" / "Ready Mades" - 1969 - Liberty Records LBF-15201

The A-Side being a wonderfully silly attack on Charles Atlas/Body Builder types.
The B-Side being a surrealistically wonderful look at Britain's art scene of the late 60's.

"Mr. Apollo" was later recorded as a single in German, which seems to suit Vivian's shouting!
"Ready Mades", has been said by many, to be a parody of "Eleanor Rigby", I would tend to disagree, it's simply Neil's offbeat look at life and a really good song.

CREDITED BAND MEMBERS: NONE

UNCREDITED MUSICIANS: Vivian Stanshall, Neil Innes, "Legs" Larry Smith, Roger Ruskin-Spear, Rodney Slater,
Dennis Cowan, Joel Druckman, Dave Clague, Sam Spoons and Vernon Dudley-Bohay Nowell
( and unknown Bonzo's on "Laughing Blues" )

WHY NO MUSICIAN CREDITS? : Simply because no-one was quite sure who performed on which tracks. Some of the songs were done in such a hurry, to meet the schedule of "Do Not Adjust Your Set", and the constant change of personnel made it hard to pin down who is playing on which songs. The primmest example is "Monster Mash", Vernon Dudley-Bohay Nowell is clearly seen playing bass on the broadcast version, but there was also a version recorded for John Peel's radio show, and adding to that: the version on this album is neither of those
versions, and to make things even more confusing, both Dave Clague & Joel Druckman remember playing bass on a version of the song. Confused yet? Another problem is "Laughing Blues" which was recorded at a time when there were more Bonzo members, then even the band can remember!


DIS-AVOWED MUSICIANS: This was the last original Bonzo release to include contributions by Joel Druckman and Dave Clague.

ENTER THE NEW BOY: This album features the first contributions by Dennis Cowan on Bass Guitar ( The last of the Bonzo Bass-men! ). Dennis came to the Bonzo's fresh from the band "The Devil's Disciples", whom also featured Peter Banks, future guitarist for "Yes".

THE SLEEVE! : If you were lucky enough to get this album on original vinyl, you were treated to a silly thing indeed: The front of the sleeve has
holes punched out, so that when the inner sleeve is removed,( the inner sleeve was printed on one side ), you see the band members eyes move, and little images pass through the slots.

On the front of the sleeve are: ( left to right ): "Legs" Larry, Vivian, and Neil.
On the back of the sleeve are: ( left to right ): Dennis, Roger, and Rodney.

SONGS THAT DIDN'T MAKE IT ON THE ALBUM: Among the songs the Bonzo's were performing in concert and other live appearances: "We're Going To Bring It On Home", "Tent", "Sofa Head", "Give Booze A Chance", "Busted", "National Beer" ( this song would later become "King of Scurf" ), "Joke Shop Man", "Boiled Ham Rhumba" ( this song would later become "The Cat Meat Conga", for Neil's "Innes Book of Records"), "What Do You Do?"," Quiet Talks", "On A Wonderful Day", and "Look At Me I'm Wonderful".

THOSE AMERICANS! : Yes, again America's jaded tastes were too good to simply have the UK version.....they had already heard "I'm The Urban Spaceman", dear boy.... and so it was replaced with "Ready Mades", ( Which our UK viewers were buying as a single ), on the US album release.

THOSE BEATLES! : It was during this time "Give Booze A Chance" cropped up on radio broadcasts, ( A parody of John Lennon's "Give Peace A Chance".), it was a segment of the song "Sofa Head" at first. It's difficult to say who is John and who is Yoko.....it sounds like Vivian is John, and Neil is Yoko. Either way, it's Neil's first dabbling in Beatle parody.

EXCUSE US, MAY WE BORROW YOUR DRUMMER?: The Bonzo's did some extensive touring between 1968 and 1969.....including two U.S. tours....so chaotic had the live sets gotten, that "Legs" tended to roam around on stage, instead of staying behind his drum kit, and the Bonzo's borrowed several drummers to "fill in". ( Included among them: Jim Capaldi and Aynsley Dunbar. )

THE CRACKS ARE SHOWING: At one point, the rigors of touring were becoming so hectic, that Vivian Stanshall was oft quoted as saying he felt at this rate of physical exhaustion the Bonzo's would soon break up.

WHAT'S IN A NAME?: Although I have never heard an explanation for the title "Tadpoles", I believe one is readily found: being that a tadpole is not a fully realized frog, perhaps these are "tadpoles" because they were not fully realized songs?