OFF THE RECORDS
SIDE ONE
LIBIDO:

Hello Readers! Caramba! Straight away we are off down South of the waist-line! For years I thought Libido meant a free open-air swimming pool until a Phd. Sociology told me it one's sex Drive; which in the all together, by and large, is another matter . . . . . .
CITY OF THE ANGELS:

I was a pool-side at a Hollywood party, rubbing shoulders with the stars: "Do you know what Los Angels means?". The question came from a beautiful girl. Her smile was dazzling. I swilled my drink casually. " Sure", I drawled, "it means The Angels." She gasped in genuine surprise; "How did you know?". I was a stranger in Tinsel Town. I eyed her suspiciously and lit another Camel. "Basic Spanish honey!" I sucked my teeth and shrugged. She looked hurt. Her eyes-brows met politely, as though on blind date. Then she smiled again. "Oh Yeah!" she nodded. I had impressed her. Life is deep . . . . . .
THEM:

"They came in countless numbers, faceless, on jelly limbs, crawling out of the living sea". . . . . .

TIME TO KILL:

Not about boredom; anyone who has ever visited a Military Cemetery will know what this track is about.
"Their names shall live forever." So says the inscription at the gate. Inside, many, graves are unidentified.

ROCK OF AGES:

. . . . . . or our very own plant, Earth. Will it become the Jewel of the Universe or will it remain the planet of the Apes?
Will it one day pulse with the gentle harmony of wisdom or will it shatter into fragments like a suicidal conker?
Find out in tomorrow's Sun . . . . . .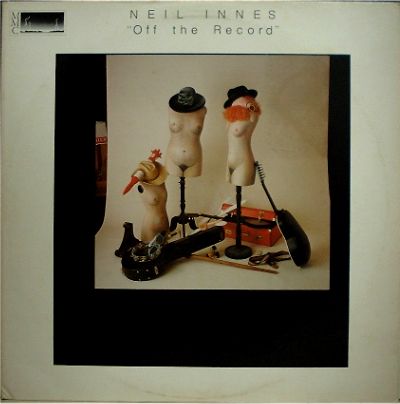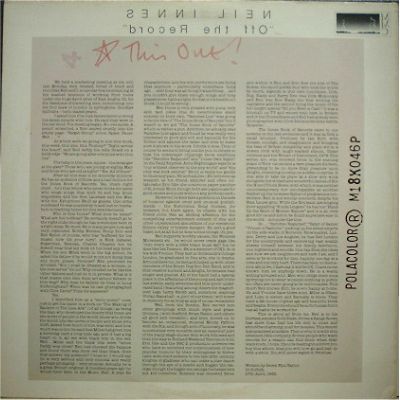 SIDE TWO:
ONE THING ON YOUR MIND:

The Battle of the Sexes all over again . . . . . . a sticky skirmish at the best of times . . . . . .

THE WORM AND THE ANGEL:

A ditty of a somewhat Metaphysical nature and a warning to those of us who put too much faith into warm bed-time drinks or night-caps . . . not to mention cheese . . .

NOT GETTING ANY YOUNGER:

This could be the lament of someone who is being deprived of a particular kind of draught bitter . . . . . .but it isn't.

TAKE-AWAY:

The lament of someone NOT deprived of ANY kind of draught bitter who finds himself still in need of something to refresh those OTHER parts . . . . . .without reaching . . . . . .

HAPPY ENDING:

Every cloud has a silver lining and to be forewarned is to be fore-armed. To be four-legged is to be a quadroped; especially when you're with the one you love.
[OFF THE RECORD] on CD!
This WAS released in Japan only.

MUSIC SCENE, INC: MMC 10080
Released in 1995

with booklet (translated lyrics & note)
Comment by Toshikazu Otaka
解説: 大鷹 俊一

OBI


BACK COVER
SIDE THREE:
STONED ON ROCK:

Heavily influenced by the 'DOORS', the 'CATFLAPS' eventually made it big in Japan. Here they are 'live', at the Budokan. Well, not exactly 'live', but sound-check earlier in the day. The actual concert tapes were unusable.

KNICKER ELASTIC KING:

"He used to travel in Bath Cubes": A story of the acceptable face of Capitalism, of Free Enterprise, of rags to riches, and back to rags again.

SPAGHETTI WESTERN:

The original sound-track from "A fist Full of Pasta". The story of a man with true grit. Pork Scratchings and a drink problem. Who was that man? . . . . . .

MR. EUROVISION:

Christmas comes but once a year and the Eurovision Song Contest is no exception; likewise, Danny Charm, runner-up in '69 to lobotomy. (Who won with the infectious 'Glub, Glub, Glub, I am a Goldfish'.) No stranger to our charts, Danny has high hopes with this year's entry, penned by Brian Damage and Rex Offal, it should set our toes Tapping! Tip for the Top


UNGAWA:
Movie fans will remember 'Tarzan goes to New York' in which our jungle hero took a ride through downtown Manhattan in a Taxi-cab. Fiddling with a knob in front of him, he accidentally turns on the radio. Hot Jazz throbs from the speaker: "Mawanga Tribe!" grunts the startled Tarzan, instantly attacking the set. "No, no, " laughs Jane, it's only the Radio, see? She changes the stations -- a Soprano in mid-Aria warbles plaintively. "Woman sick . . . . need help!" exclaims the likable Ape-man, lunging for the door while the cab is still in motion . . . . . .
SIDE FOUR:
GODFREY DANIEL:

That no one listens to the lyrics of popular songs anymore, is a widely-held view amongst the Music Industry. Godfrey Daniel, (the gentle expletive so often used by the late W.C. Fields, ) goes some way towards explaining why this could possibly be true.

FORTUNE TELLER:

Be a Soothsayer! Soothsaying can make you money! "Beware the Ides of March!" Remember Caesar? Emperor of Rome (EX)? The one that thought Brutus was a splash-on Deodorant? Did he listen? No! Boy, was he cut up! Nowadays, people will skin their Grannies just to know the winner of the 3.30 at Haydock Park! This no nonsense, step by step, easy-to-follow guide is YOURS for only a Palm crossed with Silver. Send a Palm crossed with Silver to:-
Box 7, The Waste Ground, Old Gasworks, GLASGOW. G.Y.P.O.13.

MOTHER:

Every home should have one.

BURLESQUE:

To some people, 'Politics' is a drag. To others, 'Drag' is way of life!

DOWN THAT ROAD:

And so dear Readers, sadly, I must bid you Farewell, as the sands of Time run out of the Clock on the wall and the ever-lacrimose Ronnie Garland pulls out most, if not all, of the stops, break a leg, and has to be put down: Bye everybody, thank you for listening, until the next time . . . . . .
Neil Innes